Juniper
Juniper from Zadar is among the best in the World (Willkie, Boruff and Althausen: "Controlling Gin Flavor", 1937) Growing on the slopes of the Velebit Mountains, a perfect combination of Sun, Wind and cool nights makes the aroma of our Juniper truly unique.
​
Our London dry Gin is a tribute to 2000 year long history of Dubrovnik, the great maritime Republic and it´s great son, Benedikt "Beno" Kotruljević. Our Gin is a truely Croatian Gin, destilled in Zadar, Dalmatia.
​
Our label bears the reproduction of the first known depiction of a wind rose of the Adriatic sea, included in Kotruljević´s sailing handbook written in 1464.
We use only four botanicals and you can taste every single one of them:
​
DUBROVNIK REPUBLIC
dry
Croatian GIN
fresh botanicals
unfiltered
Dalmatia in a bottle
fresh Dubrovnik Bitter Orange
We get our oranges from the Elafiti islands in the Dubrovnik archipelago. Used for exquisite marmalades, delicious arancini or traditional cakes, it has also found its way into the thriving culinary scene of Dubrovnik. Dubrovnik bitter oranges add Adriatic freshness to our gin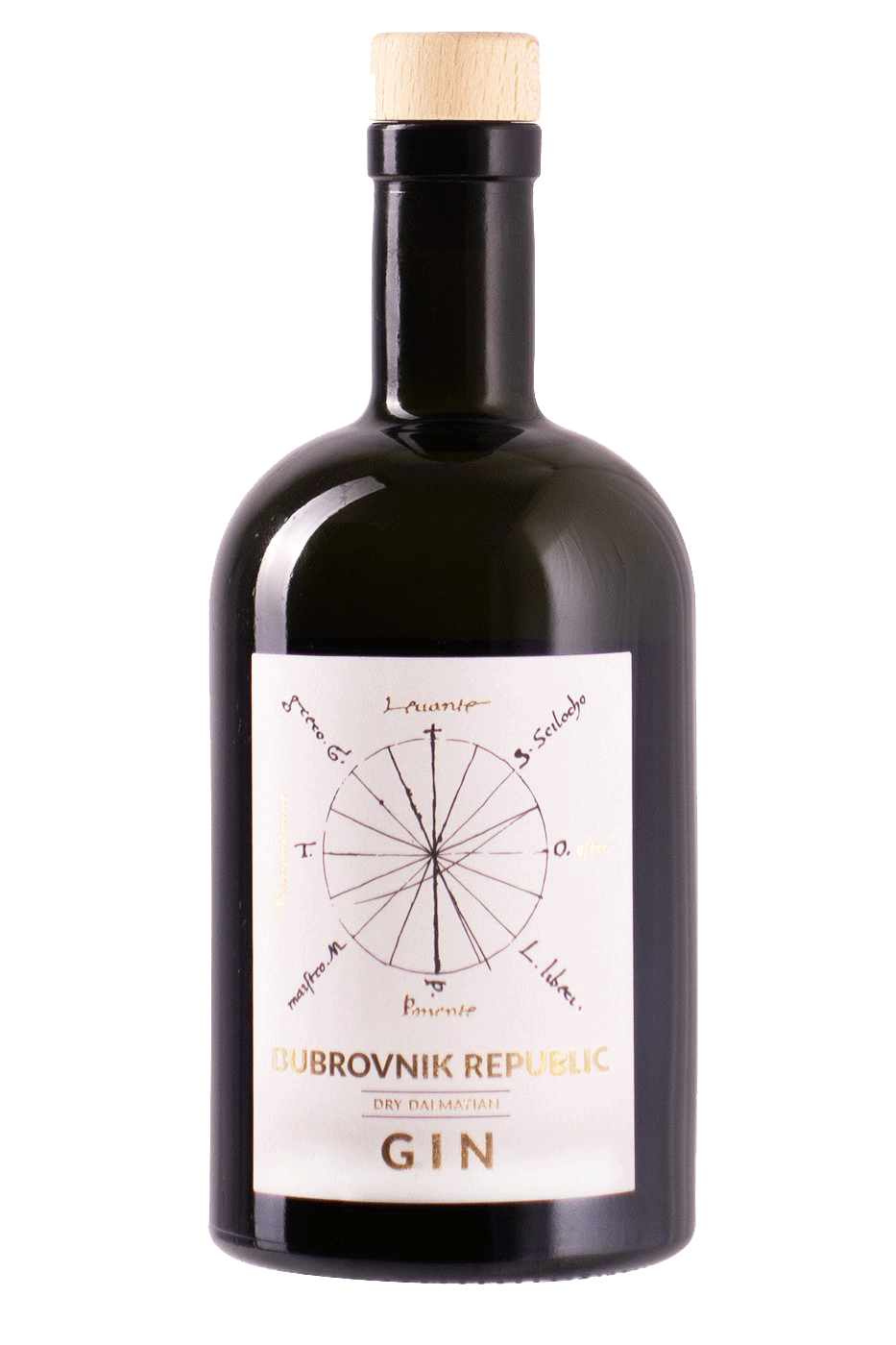 International Spirits Award ISW 2018
fresh Seafennel
Growing directly in the surf, a major source for vitamin C on sailing ships of the Republic of Dubrovnik travelling the seven. Today it is sometimes used as a pickle, to be eaten with anchovis, olives and bread. Seafennel adds the Adriatic to our Gin – it tastes like the Bura smells.​
Immortelle
A medicinal herb and perfume ingredient, used by Ragusan nobility in beauty creams and lotions for its seducing scent as well as in Europe's oldest working pharmacy opened in Dubrovnik in 1317, to create medicine because of immortelles antibiotic potential. Immortelle envelopes all other ingredients in a warm scarf – like the warm Jugo blowing on Dalmatian nights.
​
Sea Salt
from the ancient salt works of the Republic of Dubrovnik in Ston - the oldest working salt works in Europe. We add only a few grains to our gin – but when and why remains our secret.
​
Spring water
from the source of the river Una. When the Romans first reached the source the called the river "the One" – Una, because of its unique beauty. The source is about 286 meters deep, and the water hast travelled through geological formations for weeks before surfacing.
Distilling
We are using a hand built copper pot, as copper plays an important role as a catalyst and flavor regulator. Despite all tradition and craftsmanship we wanted distill a clean gin, with distinguishable botanicals. We added a modern still column, to receive clean cuts and improve taste control.
​
We macerate our botanicals for two nights and one day – a length we found in an 18th century English gin recipe. It ensures a careful extraction of essential oils. We carefully distill for up to 9 hours, controlling the fractions to ensure taste and quality.
After the pure distillate has settled, we reduce to a strength of 47% Vol.
​
Dubrovnik Republic Croatian Gin is unfiltered – filtering is simply not necessary and would reduce the content of essential oils we have painstakingly distilled.
​
​
Mario
is an ex-brewer and lumberjack, an excellent automotive refinisher and a Sunday fisherman
"There is no such thing as a stupid question"
Tel. +385998426136
Croatia croatia Croatian croatian Zagreb Rijeka Split Istra Hrvatska hrvatski Gin Din Croatian Gin